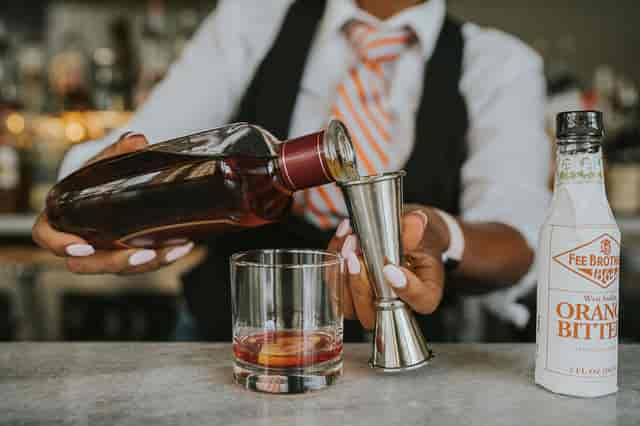 About Us
White Oak Kitchen & Cocktails adds a creative zest to dining and events in downtown Atlanta.
Throughout the interior you'll find that much of our decor is touched with white oak and re-purposed wood on many of the walls. Three signature chandeliers constructed of authentic sugar maple from the Jack Daniels Distillery illuminate the main dining room.
Our Kitchen
The kitchen at White Oak prepares food that reflects the dynamic contradictions of Southern life. The merging of contemporary with traditional, simple with complex, and rural with metropolitan are represented in a menu that requires precise methods of production, yet results in plates that appear simple and familiar. Each item is simply named to guide you toward your selection, while ingredient and preparation details are listed should you have a greater interest; however, no matter your level of interest or culinary knowledge, rest assured your Snapper will taste like snapper and your Grits will taste like grits.
The Barrel Bar
White Oak's 360-degree bar, crafted of Georgia marble and newly planed white oak, houses a collection of over 70 whiskeys and bourbons, as well as a selection of carefully chosen vodkas, gins, and wines. WOKC's Barrel Bar was named the top Whiskey Bar in Georgia by Thrillist Magazine and designated by the Bourbon Society a Great Bourbon Bar of America. Our cocktails, whether shaken, stirred, infused or neat are classically prepared in the spirit of approachable hospitality in the true Southern sense.
The driving force behind WOKC is to create an environment of growth and opportunity for our expanding team of professionals.
Since opening our first restaurant, Max Lager's Wood-Fired Grill & Brewery in 1998, we have been committed to our Vision Statement of building Brewed to Serve Restaurant Group based upon the philosophy of "Servant Leadership." As we exist to serve our growing team, collaboration becomes the element that binds all parties together to help nurture the soul of each of our restaurants.
JENIELLE WALTERS
SALES & EVENTS
DANI PULGINI
MARKETING & PR
BAKERY ORDERS
Rochelle's Pantry at WOKC