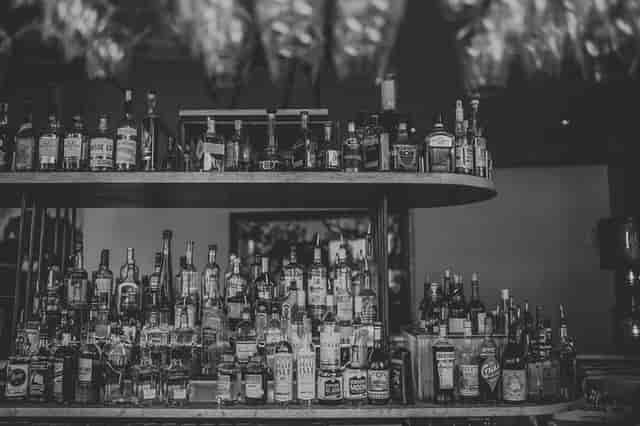 Poetry
5th Annual Prize in Southern Poetry
Our fifth annual Prize in Southern Poetry contest poems were judged by author of short story, Lincoln Continental, Professor of Literature at Georgia Southern University, Dr. James Smith.

Dr. Smith selected, "Japanese Maple," by Gregory Emilio of Decatur, Georgia. 

A PhD candidate in English at Georgia State University, Gregory Emilio has recent work published or forthcoming in Best New Poets, Crab Orchard Review, North American Review, Nashville Review, Tahoma Literary Review, and The Southeast Review. He's the Nonfiction Editor at New South, and tends bar at Bellina Alimentari.

White Oak Kitchen & Cocktails proudly presents Japanese Maple: 

Drinking alone, I studied the tremor
of her bluish hands, the old poet's wife,
each time she raised her martini for more:
the vodka gauzy in the glass, the ice
particulates shimmering like cellar
motes of dust floating in a slant of light.
Her shaking hands, time's unruly decay,
in a bustling bar on Valentine's Day.
 
The poet looked at her as if she were
a Japanese Maple, the leaves burning
burgundy in a breeze, their crisp whisper
drowned out by the boisterous flirting
of twentysomethings sipping liqueurs
like they already knew about love. Sing,
Kansas poet, laureate of the lathe,
the steady blue notes of trembling praise.
 
But the lights were so low neither could read
the menu, and they both struggled to get
the bartender's attention, their drinks dead
as ragged glaciers. Oh, let them be wet
as rain tonight! Let him butter her bread,
communion plunging a stone into flesh
like there's no tomorrow. Another round,
Kim: their waltzing roots thirst underground.
 
Though my shift had ended, I had nowhere
better to be. Hypnotized by her hands,
I drank slowly from a mirror of beer,
thinking that it's probably Parkinson's,
that each of our bodies will have an affair
with some cancer or disease, make demands
to cough up our time, whittle us to one.
I closed my eyes. And then they were gone.
Prize in Southern Poetry | Calling all Southern Poets! In a continuing celebration of Southern culture and arts, WOKC invites poets from across the South to explore the depths of Shared Spirit this Valentine's Day. Poems will be evaluated and judged by a university professor, and the winning poem on the theme of Shared Spirit will receive a $1,500 prize and their poem will feature on our Valentine's Day menu. Rules for Submission: 1. The contest is open to all poets who currently reside in and have had residency in one of the following states for a minimum of 12 consecutive months: Alabama, Arkansas, Florida, Georgia, Kentucky, Louisiana, Mississippi, North Carolina, South Carolina, Tennessee, Texas, Virginia, West Virginia. (Residency will be verified before prize winner is announced.) 2. Writers who have published 2 or more full-length collections of poetry or who do not meet the residency requirements are NOT eligible 3. Translations and manuscripts in languages other than English are not acceptable, however manuscripts that occasionally use words from other languages are perfectly fine 4. All poems submitted will become the property of White Oak Kitchen & Cocktails and can be published without further approval of author 5. Poems must be received by WOKC no later than Friday, February 7, 2020 6. The submitted poems will not be returned 7. No entry fee required 8. Poem Guidelines: - Only one submission per author - 40-line limit - Must be on the topic of "SHARED SPIRIT" - Poem must be typed (single-spaced) - Author must include name, address, phone number, email address, word count, and manuscript title on the submitted poem 9. Poems must be submitted by email to info@whiteoakkitchen.com 10. No revisions of submitted manuscripts will be allowed during the contest 11. The winner will be announced on Friday, February 14, 2020 and contacted prior to discuss delivery of the $1,500 payment prize
4th Annual Prize in Southern Poetry
Our fourth annual Prize in Southern Poetry contest poems were judged by author of poetry book Songs & Ballads and esteemed Professor of English and Creative Writing at Furman University, Professor Lindsay Turner.

Professor Turner selected, "Hindsight," by Heather Elouej of Johnson City, Tennessee.

Heather is Editor of The Tusculum Review. She earned a BA in English (Literature) from Georgia College & State University in Milledgeville, Georgia and an MFA in Creative Writing (Fiction) from Washington University in St. Louis. Her works of short fiction have appeared in Conjunctions, DIAGRAM, Salt Hill, Cimarron Review, Unstuck, and elsewhere. She currently lives in Johnson City, Tennessee and teaches writing and literature courses at Tusculum University.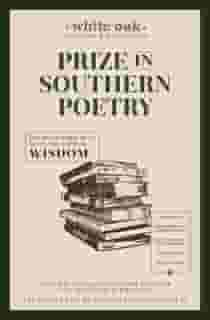 Hindsight
Heather Elouej | Johnson City, TN

She culled wisdom from the swell
of bee-stung skin, from the violet
underneath of an eye, the bend
of hunched spine, in the comminuted
fracture of arm, hairline fissure
of rib. She stockpiled horse sense
from sore sole, from pockmark, from
stretch mark, from sickle-shaped scar
from pot belly, growling belly, smacked
mouth, from loud mouth, open
legs, from scald-burn, from taste-
bud, from pasture land, the sky-
line, from fact check, the moon.
3rd Annual Prize in Southern Poetry
Our third annual Prize in Southern Poetry contest poems were judged by author of poetry books Videotape, Petals of Zero Petals of One, Anabranch, By Reason of Breakings and esteemed Professor of English at the University of Georgia, Professor Andrew Zawacki.

Professor Zawacki selected, "Second Holiday," by Paige Sullivan of Atlanta, GA.

Paige completed her B.A. at Agnes Scott College and her M.F.A. at Georgia State University. While attending Georgia State, Paige served as an assistant editor at Five Points, as later the editor of New South. Paige was a participant in the 2015 Kentucky Women Writers Conference Workshop, the 2017 Tin House Winter Workshop for Poets, and most recently the Poetry Foundation and Crescendo Literary's 2nd annual poetry incubator in Chicago. In addition to essays and reviews, her poems have appeared in Arts & Letters, Ninth Letter, American Literary Review, and other journals. She is honored to be the recipient of the 3rd Annual White Oak Kitchen & Cocktails' Prize in Southern Poetry and is extremely grateful for the support.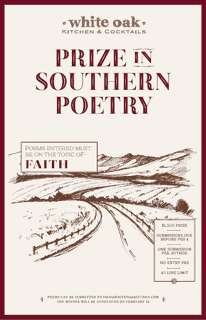 Second Holiday
Paige Sullivan | Atlanta, GA

And maybe it won't be the ocean frothing
or the beating of my blood in my own ears
that I'll hear, but I'll choose to believe the fable:
that I hear something that isn't inside the shell.
The ones on Amelia Island are fated to shatter
against the barrier reef that hugs the coastline.
One day our sunscreen will kill the coral,
and the whole shells we'll cup to our ears
will perhaps be a sign that too many things
went wrong, even when we knew better.
In the art museum, we stand before the couple
who touch, loving each other so much
that they ward off truth. You reach for my hand
to remind me. How glad I am just to see
the painting—its recognizable, noiseless belief.
2nd Annual Poetry Contest
Our second annual poetry contest was judged by author of Bodies that Hum and esteemed Professor of English and Creative Writing at Georgia State University, Professor Beth Gylys.

Among the poems, Professor Gylys selected, "For Our Mother," by Sophia Gorgens of Atlanta, GA.

Sophia is a second-year medical student at Emory University. Sophia lived in Georgia from 2006-2011 and returned to the South in July of 2015. She earned her undergraduate degree in Biology and English with a minor in Creative Writing at Boston College. While at Boston College, Sophia received the Cushing Award in 2014 & 2015, as well as the Bishop Kelleher Award in 2015. She also held the position of Editor-in-Chief of Stylus, the literary and arts magazine of Boston College. She is currently the Editor-in-Chief of the Styloid Process, the literary and arts magazine of Emory School of Medicine. Sophia has work published in Stylus, the Laughing Medusa, the Medical Humanities Journal of Boston College, the Styloid Process, the Tokyo Weekender, Pulse, and Eunoia Review. As for Sophia's upcoming work, she will be published in the Journal of the American Medical Association and the Mayday Magazine. She is honored to be the recipient of the 2nd Annual White Oak Kitchen & Cocktails' Prize in Southern Poetry and is extremely grateful for the support.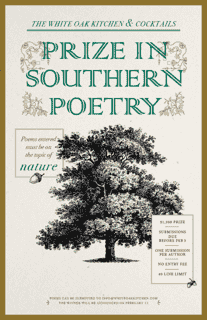 For Our Mother
Sophia Gorgens | Atlanta, GA

We pick the berries in Valdosta on a whim,
the streaks of strawberry fields drawing us in,
splashes of lingering blueberries. Birds kept out by mesh
puff their feathered breasts in loud indignation,
watch us from the thin wires of telephone poles.
Back home, my sister knows the recipe–old German heritage
and my tongue can hardly form the words. She has me dictate
each step to her in the original, grams instead of cups
and Zucher instead of sugar. The language of our mother.
In the quiet of the kitchen, her memory is between us,
how her hands would knead the dough on the countertop,
spinning egg yolk with butter into gold silk. Adding flour
carefully spoon by spoon. How she taught us the trick
with the rolling pin–be generous and quick. And how in America
she invented substitutions, like ricotta cheese for quark.
When my sister pulls the cheesecake out of the oven,
the top is lightly coppered, stretched tight as a drum.
It smells like our mother, but as we decorate it with bright berries,
we know we'll tell our friends it's something else–cheesecake
is too American and Kasekuchen too foreign. Meanwhile, as it cools
our oven sings its own language.
Inaugural Prize in Southern Poetry
Poems were evaluated and judged by Kevin Young, author of eight books of poetry and esteemed Professor of Creative Writing and English at Emory University.

Among the poems, Professor Young selected, "Love Spell," by Shannon Ward of Fayetteville, NC.

Shannon Ward is author of the poetry chapbook, Blood Creek (Longleaf Press, 2013). Under the direction of Dorianne Laux, she earned her MFA in poetry in 2009, and since then, her work has received generous support from Yaddo, Norton Island, the Anderson Center, and Brush Creek Foundation for the Arts. She was a winner of the 2013 Nazim Hikmet Poetry Prize, and her work has appeared in many excellent journals, including Great River Review, Superstition Review, and Tar River Poetry. She is honored to be the recipient of the inaugural White Oak Kitchen & Cocktails' Prize in Southern Poetry and is extremely grateful for the support, which will be very helpful in her pursuit to publish her full-length manuscript. Her web address is shannoncamlinward.com.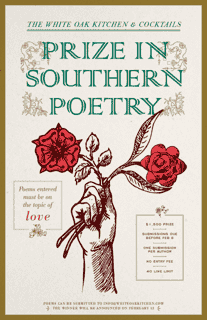 Love Spell
Shannon Ward | Fayetteville, NC

Low tide between two rocky shores, step barefoot in the sound.
Absorb the shock of cold into your bones
as you sink into the much sucking under step.
Through mud clouds pluming over sharp rocks,
you must feel your way lightly with the soles of your feet.
Wade waist-deep to where the sweetest mussels nestle,
hiding from the sun like sleepy lovers,
growing plump beneath thick, tidal blankets.
Reach into the much and tuck your fingers
beneath their clumpy beds. Tug gently to tear
the byssal thread nets they've pinned to the sea floor
and fill your hands with heavy strands of silver-flecked blue shells
crusted with cockles and tasseled in seaweed.
Rip the rocks away and plunk them back into the water.
Pilfer the fodder of the blue world until your bag is full.
Then drape it over the dock and let the current wash the much away
all day, until supper time, when you'll return to sort
the silted from the sealed, squeezing each shell,
tossing those that ooze gritty slime into your palms,
and pulling stubborn whiskers from the ones you keep,
chipping away what barnacles you can. Rinse them again
in the ocean, in the sink. Mince many cloves of garlic
to sauté in the salted butter. And cheap, white wine and little water.
When the mixture boils, drop the mussels in and cover.
Let the steam seep the hinged valves open,
the nacreous lamina cupping its sweet meat,
which you must chew slowly. Swallow the pearls.