Prize in Southern Poetry: Congratulations to the Winning Poet!
Prize in Southern Poetry: Congratulations to the Winning Poet!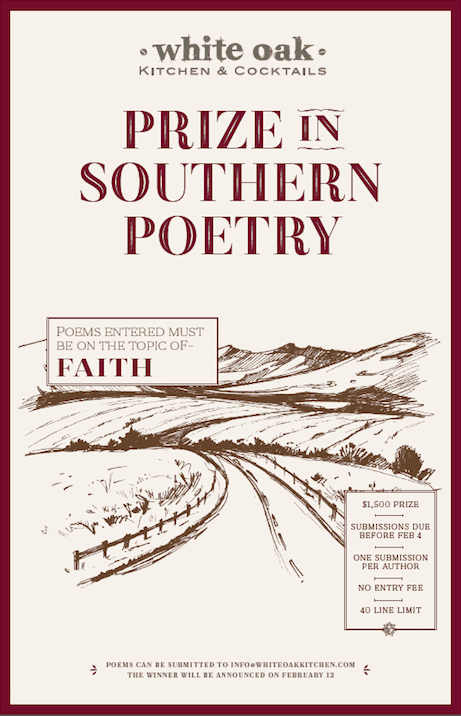 As a continued effort to show our support for Southern culture and arts, White Oak Kitchen & Cocktails hosted its 3rd Annual Prize in Southern Poetry, accepting poem submissions from thirteen southern states. This year's poems were judged by none other than the author of poetry books Videotape, Petals of Zero Petals of One, Anabranch, By Reason of Breakings and esteemed Professor of English at the University of Georgia, Professor Andrew Zawacki. Among the poems, Professor Zawacki selected, "Second Holiday," by Paige Sullivan of Atlanta, GA.
Paige completed her B.A. at Agnes Scott College and her M.F.A. at Georgia State University. While attending Georgia State, Paige served as an assistant editor at Five Points, as later the editor of New South. Paige was a participant in the 2015 Kentucky Women Writers Conference Workshop, the 2017 Tin House Winter Workshop for Poets, and most recently the Poetry Foundation and Crescendo Literary's 2nd annual poetry incubator in Chicago. In addition to essays and reviews, her poems have appeared in Arts & Letters, Ninth Letter, American Literary Review, and other journals. She is honored to be the recipient of the 3rd Annual White Oak Kitchen & Cocktails' Prize in Southern Poetry and is extremely grateful for the support.
Ladies & Gentlemen, Without Further Ado, White Oak Kitchen & Cocktails Proudly Presents
Second Holiday
Paige Sullivan | Atlanta, GA
And maybe it won't be the ocean frothing
or the beating of my blood in my own ears
that I'll hear, but I'll choose to believe the fable:
that I hear something that isn't inside the shell.
The ones on Amelia Island are fated to shatter
against the barrier reef that hugs the coastline.
One day our sunscreen will kill the coral,
and the whole shells we'll cup to our ears
will perhaps be a sign that too many things
went wrong, even when we knew better.
In the art museum, we stand before the couple
who touch, loving each other so much
that they ward off truth. You reach for my hand
to remind me. How glad I am just to see
the painting—its recognizable, noiseless belief.
---
---
Narrative of "Second Holiday"
Professor Andrew Zawacki
 jcjkjvn
Bringing a Depression era drama into the Anthropocene, "Second Holiday" resituates a Rockwell painting that illustrated a homespun magazine story. Transferring the scene from a midwestern waiting room to the Cummer Museum in Florida, the poem restages the image staging the fiction, as someone takes the speaker's hand, standing before the painting of a couple touching hands.
We don't know if the museum goers, like the people in the tableau they're "glad" to see, are elderly or sick. Clear as day, however, is that the whole planet is dying by now. Amelia Island's "coastline" rhymes with the "sunscreen" which, a synecdoche for human intervention, is killing its ecosystem, the "barrier" reef destined to "shatter," too. So the local interpersonal narratives, despite how moving the love they uphold, happen against a backdrop of environmental turbulence that's quickly becoming the main—the only—story. After that, no second holiday.
Aware of this encroaching global truth, the poem nonetheless stakes its claim on the quiet power of "fable." I take that risky decision to be neither escapism nor denial, but rather a "belief"—this lyric's last word, sonically married to the barrier "reef" from half its lines ago—in the necessary, if insufficient, sustaining function of art.
What's most remarkable about this near sonnet, finally, is how it responds to a famous painting less by looking or speaking than by listening. In our age of simulcast disasters and steroidal social media, in which even the private is visible and nobody ever shuts up, to seek meaning in silence is an increasingly rare form of faith.
---
---
THE WHITE OAK KITCHEN & COCKTAILS TEAM CONGRATULATES paige sullivan FOR HER SUCCESS AND APPRECIATES HER 
CONTRIBUTION TO THIS YEAR'S PRIZE IN SOUTHERN POETRY.