And the winner is.....
Congratulations to Shannon Ward, winner of the inaugural White Oak Kitchen & Cocktails Prize in Southern Poetry.  The competition garnered over 150 submissions from Texas to Virginia, and presented quite a challenge for judge Kevin Young of Emory University. Please take your time to read this wonderful poem.  White Oak Kitchen & Cocktails could not be more pleased with the winning poem as well as all of those submissions.  Thanks to all participants, and please look forward to submitting again in 2017!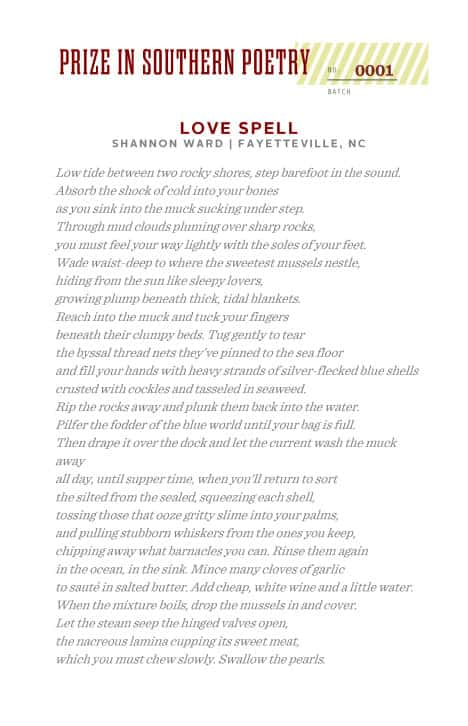 About the author.... Shannon Ward is author of the poetry chapbook, Blood Creek (Longleaf Press, 2013). Under the direction of Dorianne Laux, she earned her MFA in poetry in 2009, and since then, her work has received generous support from Yaddo, Norton Island, the Anderson Center, and Brush Creek Foundation for the Arts. She was a winner of the 2013 Nazim Hikmet Poetry Prize, and her work has appeared in many excellent journals, including Great River Review, Superstition Review, and Tar River Poetry. She is honored to be the recipient of the inaugural White Oak Kitchen & Cocktails' Prize in Southern Poetry and is extremely grateful for the support, which will be very helpful in her pursuit to publish her full-length manuscript. Her web address is shannoncamlinward.com.