Banfi & Brews: 5-course Wine & Beer Dinner Benefitting the High Museum
Banfi & Brews: 5-course Wine & Beer Dinner Benefitting the High Museum
---
Passion: noun pas·sion \ˈpa-shən\ : the state or capacity of being acted on by external agents or forces.
Tradition: noun tra·di·tion \trə-ˈdi-shən\ : the handing down of information, beliefs, and customs by word of mouth or by example from one generation to another without written instruction.
This year's High Museum Wine Auction dinner is a collaboration with Banfi Vintners Wines and the Chefs of White Oak Kitchen and Cocktails. These two companies have deep rooted beliefs of how to pleasure the palate and overall guest satisfaction. Banfi has a long tradition of providing the best of wines all over the globe, and have a close family relationship of keeping themselves at the top of the best wine makers. Their passion for the perfect sip and the tradition of old world wines caught our Chef's attention as they have similar attributes. The Chefs here at WOKC have stepped outside the borders of Italy to pair these delicious wines with cuisine of another family rooted with passion and tradition. We challenged ourselves to pair these wines with flavors of Southeast Asian and techniques of French and Spanish Cuisine, all the while using local and sustainable product grown and raised here in the South. We are excited to show you the diversity of these wines and the versatility of where you can travel with pairings. When you have a strong tradition and the will of rooted passion, you can bring families from different cultures together and see how well they really compliment each other. Please join White Oak Kitchen & Cocktails for a night of sharing.
---
Banfi & Brews Five-Course Menu with Featured Wine & Beer Pairings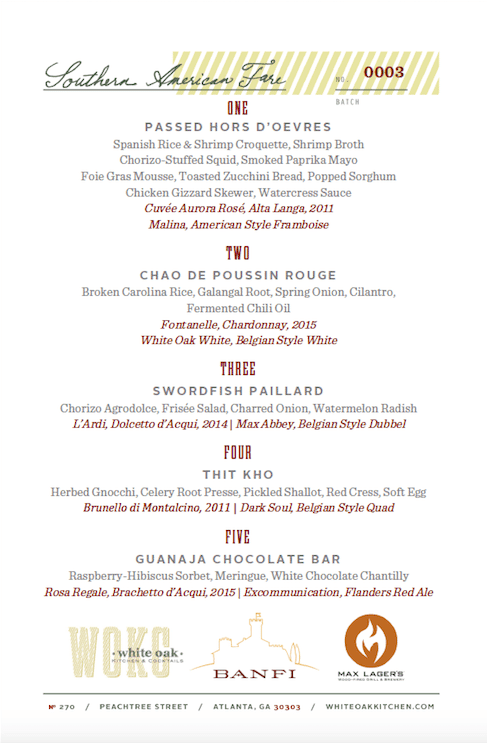 Join White Oak Kitchen & Cocktails on March 22nd to benefit the High Museum's 25th Annual Wine Auction. The evening will begin with a Cocktail reception at 6:30 pm followed by a five-course dining experience crafted by Executive Chefs Todd Richards & Shane Devereux at 7 pm. Wine pairings will be presented by James Mariani of Banfi Wines. Beer pairings will be presented by John Roberts of Max Lager's Wood-Fired Grill & Brewery.
$100 per person inclusive (tax & gratuity)
Space is Limited
Complimentary valet parking.
To reserve your space, contact Hannah Thompson at events@whiteoakkitchen.com
---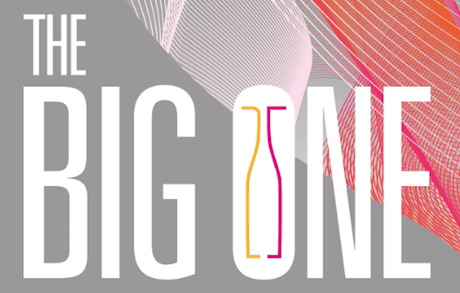 Founded in 1993, the High Museum Atlanta Wine Auction is the largest fundraising event for the High Museum of Art. The Wine Auction is the top charity fundraising event in Atlanta, the 10th largest charity wine auction in the United States according to Wine Spectator magazine, and the No. 1 charity wine auction benefiting the arts. Proceeds generated by the Auction, which have amounted to more than $26 million over the last 24 years, provide a significant source of funding for the Museum's exhibitions and educational programming. Proceeds help to make possible special exhibitions and partnerships, and the Auction also provides funds for dynamic youth education programs, which draw more than 65,000 schoolchildren to the High each year.
These are just a few of the reasons White Oak Kitchen & Cocktails is proud to sponsor this special event. We look forward to participating in the High Museum's 25th Annual Wine Auction.