Prize in Southern Poetry! Calling all Southern poets ? submit your poem to this competition
Prize in Southern Poetry! Calling all Southern poets ? submit your poem to this competition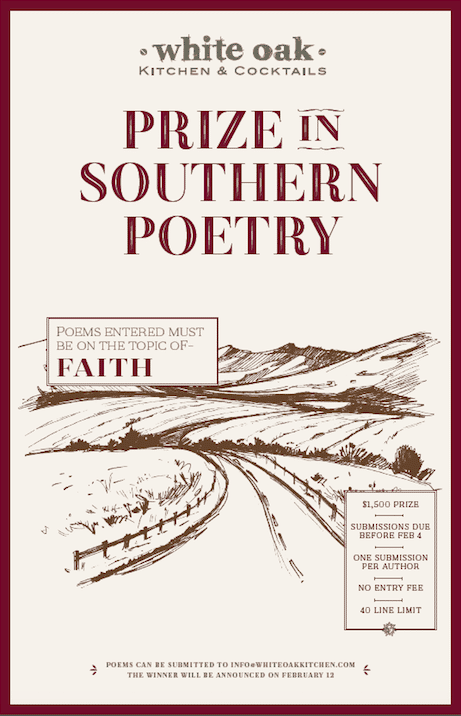 3RD ANNUAL WOKC SOUTHERN POETRY COMPETITION  ---  RULES FOR SUBMISSION
In a continuing celebration of Southern culture and arts, WOKC invites poets from across the South to explore the depths of faith this Valentine's Day. Poems will be evaluated and judged by University of Georgia Professor of English Andrew Zawacki. A 2016 Howard Foundation Fellow in Poetry, Professor Zawacki is the author of the poetry books 
Videotape
, 
Petals of Zero Petals of One
, 
Anabranch
, and 
By Reason of Breakings
. His poems have appeared in 
The New Yorker
, 
The New Republic
, 
The Nation
, and elsewhere. He has published three books in France—
Georgia
 and 
Carnet Bartleby
, both translated by Sika Fakambi, and 
Par Raison de brisants
, translated by Antoine Cazé and a finalist for the Prix Nelly Sachs. Zawacki's translation of Sébastien Smirou, 
My Lorenzo
, received a French Voices Grant, and his translation of Smirou's 
See About 
earned an NEA Translation Fellowship and a fellowship from the Centre National du Livre. A former fellow of the Slovenian Writers' Association, Zawacki edited 
Afterwards: Slovenian Writing 1945-1995
 and edited and co-translated Aleš Debeljak's 
Without Anesthesia: New and Selected Poems
. The winning poem on Faith will receive a $1,500 prize and their poem will be featured on our Valentine's Day menu.
Rules for Submission
  1. The contest is open to all poets who currently reside in and have had residency in one of the following states for a minimum of 12 consecutive months: Alabama, Arkansas, Florida, Georgia, Kentucky, Louisiana, Mississippi, North Carolina, South Carolina, Tennessee, Texas, Virginia, West Virginia. (Residency will be verified before prize winner is announced.)
  2. Writers who have published 2 or more full-length collections of poetry or who do not meet the residency requirements are NOT eligible
  3. Translations and manuscripts in languages other than English are not acceptable, however manuscripts that occasionally use words from other languages are perfectly fine
  4. All poems submitted will become the property of White Oak Kitchen & Cocktails and can be published without further approval of author
  5. Manuscripts must be received prior to February 4, 2018
  6. The submitted poems will not be returned
  7. No entry fee required
  8. Poem Guidelines:

        - Only one submission per author
        - 40 line limit
        - Must be on the topic of "FAITH"
        - Poem must be typed (single-spaced)
        - Author must include name, address, phone number, email address, word count and manuscript title on the submitted poem

  9. Poems must be submitted by email to info@whiteoakkitchen.com
  10. No revisions of submitted manuscripts will be allowed during the contest
  11. The winner will be announced on February 12, 2018 and contacted to discuss delivery of the $1,500 payment prize